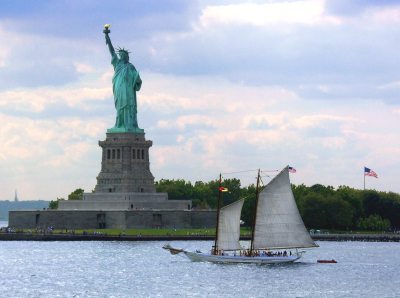 When you are taking a
trip to New York City
, without any doubt you will like to see the Empire State Building, Rockefeller Center or the United Nations. These are only few names that are present in the Manhattan area of the New York City. The list is endless.
I started my Manhattan journey with a visit to the Empire State Building. The 1,454 foot tall building has an observatory deck from where you can have a spell bound view of the New York skyline. There is a glass enclosed observatory at the 86th floor and an open air one at the 102nd floor. I reached the 102nd floor observatory at dusk and witness how the daylight give way to the thousands of glowing neon that bear the emblem of never sleeping city. It was an amazing view that I hardly can phrase. The 103rd level was once used as the docking station for the airships.
Another area that I have planned to visit during night is the Times Square. This glitzy area is always crowded with people. Shopping malls, some of the best stores and the theaters all flocked in and around the Times Square.
My next stop was Metropolitan Museum of Art. It is one of the rare spots in the city where you can spend an entire day and can see only a fraction of it. In this iconic museum you will find 17 curatorial collections that span over different eras and cultural standpoints.
Museum of Modern Art
is also a place where you can get lost in their permanent exhibits for the entire day. The Museum houses the priceless pieces of the renowned artists. Equally alluring are the attached cinema, sculpture garden and the high-end restaurant.
The 25 acre green space of the Battery Park was also there in my Manhattan Travel. Basically, I was there in the park to catch a ferry to the famous Liberty Island. The name of the park originates from the battery cannons that it once had. The beautiful view of the waterfront from the park surprises the visitors.
The 843 acre plot of the Central Park was another draw of the Manhattan. The picturesque vistas lined with skyscrapers can be visited any time of the year. It has something interesting in-stored for you in every season.
Whatever be your interest there is no one, who has left the American Museum of Natural history without being awestruck. The museum collections help you to develop an understanding of human origin or origin of different species.
The Manhattan area is full of remarkable buildings, renowned libraries, world famous streets and museums. The attractions seem to be never ending. However, it is hard to get a
midtown Manhattan Hotel
. Lucky few have the opportunity to stay in the place. Most of the tourists stay at a close proximity from Manhattan and commute to the area. If you have plans to stay in the area it is best to reserve your accommodation much prior to the travel date.